Lars Opperman and Phillipa Crane – Mentor/Mentee Reflection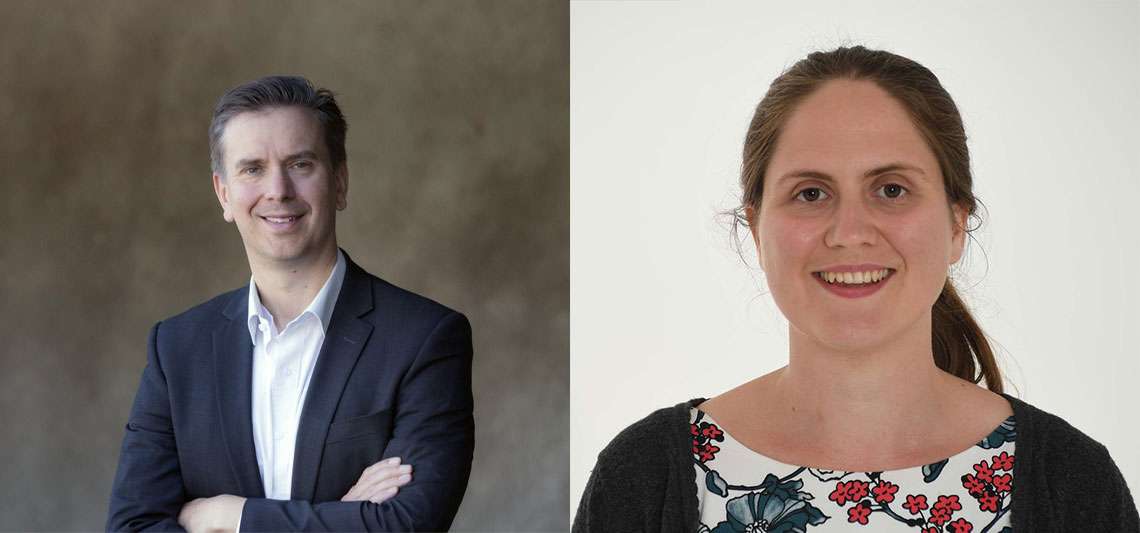 Mentoring is a way for people to improve their performance by learning from the experiences of someone they trust. For companies, evidence shows that nurturing your staff is the key to success. Organisations that encourage mentoring relationships are creating better opportunities and more structured career paths for their employees, which improves staff retention rates and gives an overall boost to the industry.
The TFTC mentoring program is a collaborative effort between Defence and Defence Industry to connect women with senior industry mentors. For this Shared Story, we take a look at how Lars Opperman of Airservices Australia and Phillipa Crane of CASG, one of our former pairs of mentor and mentee participating in the program, made it work.
To start off, can you tell us about what you both do.
LARS OPPERMAN: I'm the ATM Systems Manager at Airservices. The ATM Systems business unit has over 60 staff, which includes engineers, technicians, and operational ATC specialists. We're responsible for the Air Traffic Management (ATM) systems used by air traffic controllers which control 11% of the world's airspace.
PHILLIPA CRANE: In my current role I'm responsible for liaising with Army user units, figuring out what they need in order to do their jobs better, then turning that into a specification to go out to tender. I conduct verification activities such as trials on the items, then introducing it into service; so basically going through the entire Defence Capability Life Cycle in less than two years! I also provide guidance and direction to the more junior engineers in my team, including graduates, work experience students, Army reservists, and contractors.
Can you describe how you felt when you first met? What were your first impressions?
LO: I had been participating in TFTC for two years prior to meeting Phillipa, so I was feeling calm, interested, and curious. The first meet can feel a bit like a blind date, being paired up with someone you don't know. Thanks to the TFTC matching work, Phillipa and I found that we have similar communication styles, and it didn't take long for us to get to know each other.
PC: The first time I met Lars was at the lunch after the TFTC program commencement session in Canberra. I was a little nervous, but Lars was super friendly and reassuring. He'd actually been a mentor twice before already, so he was able to quickly put me at ease.
What kind of process or framework have you been using together for the mentoring interactions?
LO: There are a few coaching tools that I like, the GROW model (Goal, Reality, Options, Wrap-up) being one of them, and "What, Which, Why" situational questions. With mentoring, I'll almost always have an example to share of how either I or someone I know has handled a similar situation.
PC: Lars and I set up regular monthly meeting dates right at the start. We obviously had to move a couple throughout the year as things came up for both of us, but having the second Thursday of every month pencilled into my diary helped me plan, and reminded me when I needed to get organised for our next session. We were both in Melbourne, so I was fortunate enough to meet Lars in person for all our sessions (although we still stay in contact now via phone every couple of months). I scheduled reflection time into my diary weekly, and then would consolidate that into topics and/or questions that I would bring up with Lars during our sessions each month. However, we were very flexible in our discussions. I never said, "hey, here's exactly what we'll talk about today," or "here are my questions or topics for today." We always kind of started off with a guide of what I wanted to talk about, and let the conversation flow from there.
What did you find the most challenging throughout the process?
LO: I tried to be really conscious not to bring my own agenda into the mentoring process. It's always good to have some ideas for where to probe or where to push, but you have to adjust to where you are in the relationship based on your level of trust, the kind of energy and openness at the moment, and so on. For example, if the mentee has had a bad day, or is feeling stressed for some reason, it's probably not the time to press for insights or answers. In this case, it might be better to help them reflect on positive points, by asking questions like "what has gone well this week?" or "what are you proud of?".
PC: The most challenging thing for me was figuring out what to ask during sessions, and what to do between sessions, to get the most out of the program. There's no real rulebook or measurable outcome I know of which made me question whether or not I was doing it "right". The quarterly catch-ups helped, and Lars also was helpful in giving me ideas at times when I was a bit stuck or making sure we had time to follow up and reflect on previous sessions and what had happened since then.
Any advice for future mentors or mentees in the program?
LO: You get out what you put in. Keep notes, reflect on conversations. Keep an open mind about what can or should be achieved within a session and throughout the program. You never know – you might be able to achieve more! Or you might need to spend more time on something in particular, and do something else less.
Everyone is busy, but I don't know anyone who doesn't have an hour free in their calendar in one month's time. Commit to keeping your catch-ups monthly, and always meet in person if possible.
Also, don't be afraid of a little reverse-mentoring. Mentees provide an opportunity for those of us who are mentoring to reflect, grow, and have a positive effect on their lives and careers. Rather than looking at a mentoring session as something else that's just taking up your time, try to see it as a growth opportunity for both of you.
PC: I would agree with Lars there, it's definitely a program where you get out what you put in. I know you'll hear that a lot, but it's true! Put everything you can into having regular sessions, figuring out some goals, having topics to discuss with your mentor, and following up on actions. It's also important to reflect back on what you've learnt throughout the whole process, not just at the end.
The mentoring program run by the TFTC is a joint initiative of Defence Industry thought leaders, designed to tackle the issue of diversity within the sector and aiming to improve the attraction and development of women.
Mentors and mentees are matched based on their professional goals and objectives and career backgrounds and meet monthly over 12 months to share their experience and realise their ambitions.