How to get the most out of the TFTC Program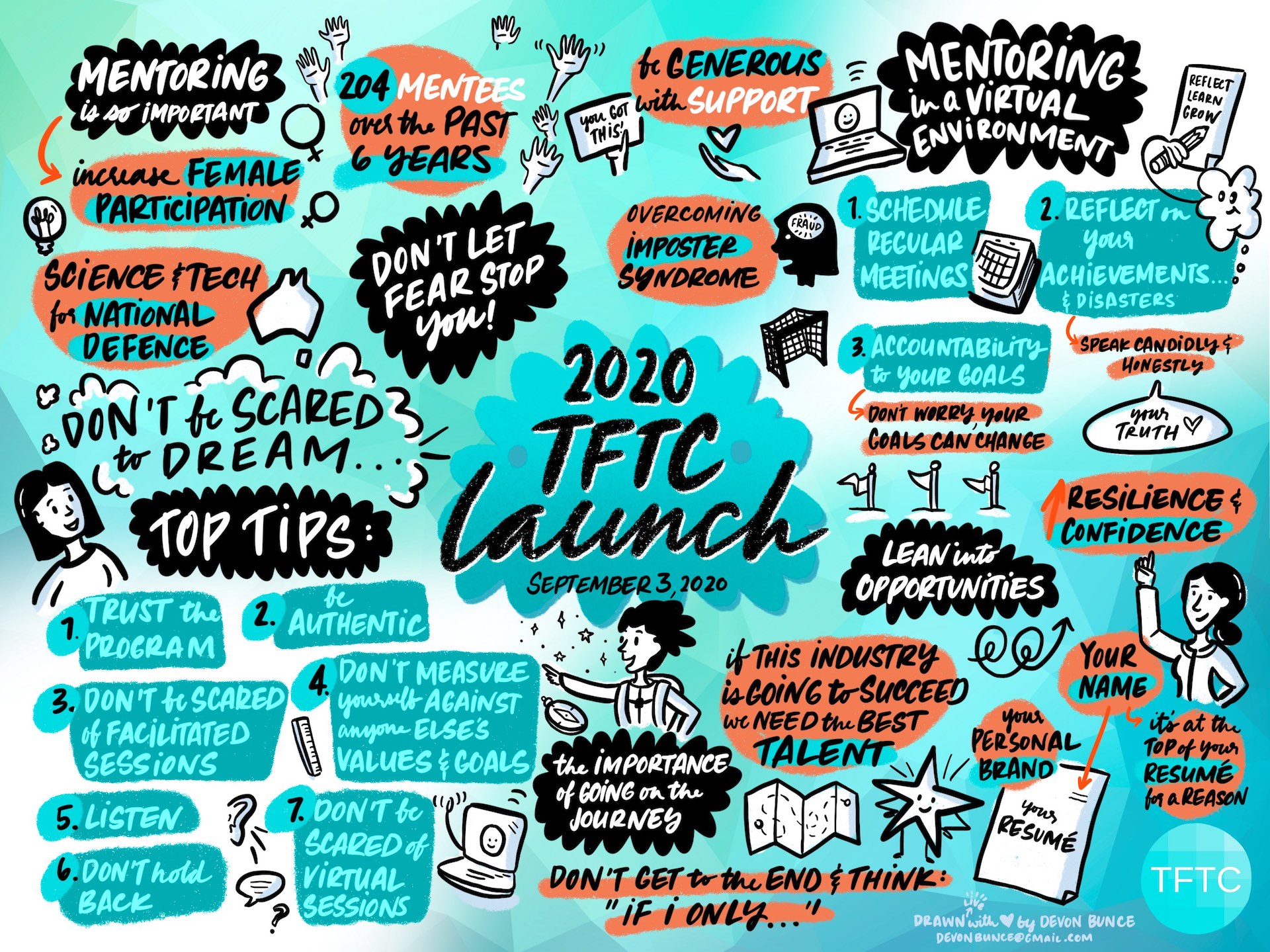 Mentoring programs can be intimidating experiences – whether you are a first-time mentor, a mentee taking a step towards cementing career aspirations, or casting your net to network and meet like-minded individuals who share the same passions.
Lucky for us, two 2019 program participants have shared their experiences and tips to get the most from the TFTC program.
Giuliana Marshall first joined the TFTC program as a mentee in 2016. In 2018, Giuliana returned as a mentor and is now on her third consecutive year of mentoring through the TFTC program.
Lisa Le joined our 2019 program as a mentee, and found herself in a long-distance online mentoring relationship, before Zoom calls were the 2020 norm.
Both Giuliana and Lisa were kind enough to share how they made the most of their TFTC experience and share their tips for both mentees and mentors.
For Everyone
Be authentic
When it comes to starting a mentoring relationship, openness is key. Be yourself, lean into conversations and open up about what you are wanting form this experience. Being authentic will break down barriers and lead to a better partnership.
Don't be scared of the facilitated sessions
The facilitated sessions are unexpected and personally challenging. When you think you might prefer to gloss over a tough question in your head – Don't. Lean into it. It won't be easy but it will be worth it.
Don't compare yourselves to others
Don't measure yourself against anyone else's values and goals – focus on your own outcomes and what you personally want to achieve.
Embrace virtual sessions
For all of our participants and especially mentees, in all likelihood you will never be given another opportunity like this again. Ever. Lean in and make the most of it. Don't get to the end and think "if I Only…"
For Mentees
Don't hold back.
Don't assume mentors think you don't have anything to offer. Most of the mentors are blown away by their mentee!
Schedule regular meetings with your mentor
Set a fixed agenda and time and stick to it. If you ever feel like you are not sure what an agenda should be, reflect on the mentoring guidebook. It is up to you where this program can take you.
Document your success and hurdles
Write down your wins and losses and share it with your mentor. Their insight can be crucial in your reflection phase of these happenings.
For Mentors
There is no formula
Genuinely listen. Let your mentee have the space to be them. Your job is to support them to achieve their goals and be their own best selves. As much as we may love to-do lists and spreadsheets, its ok if your mentee doesn't.
We would like to thank Giuliana Marshall from Jacobs Australia and Lisa Le from Raytheon for their generosity in sharing their insights.
Looking for more inspiration and guidance on how to get the most out of your TFTC experience? Read on to learn about LCDR Jacqueline Dew's experience as a 2018 mentee.